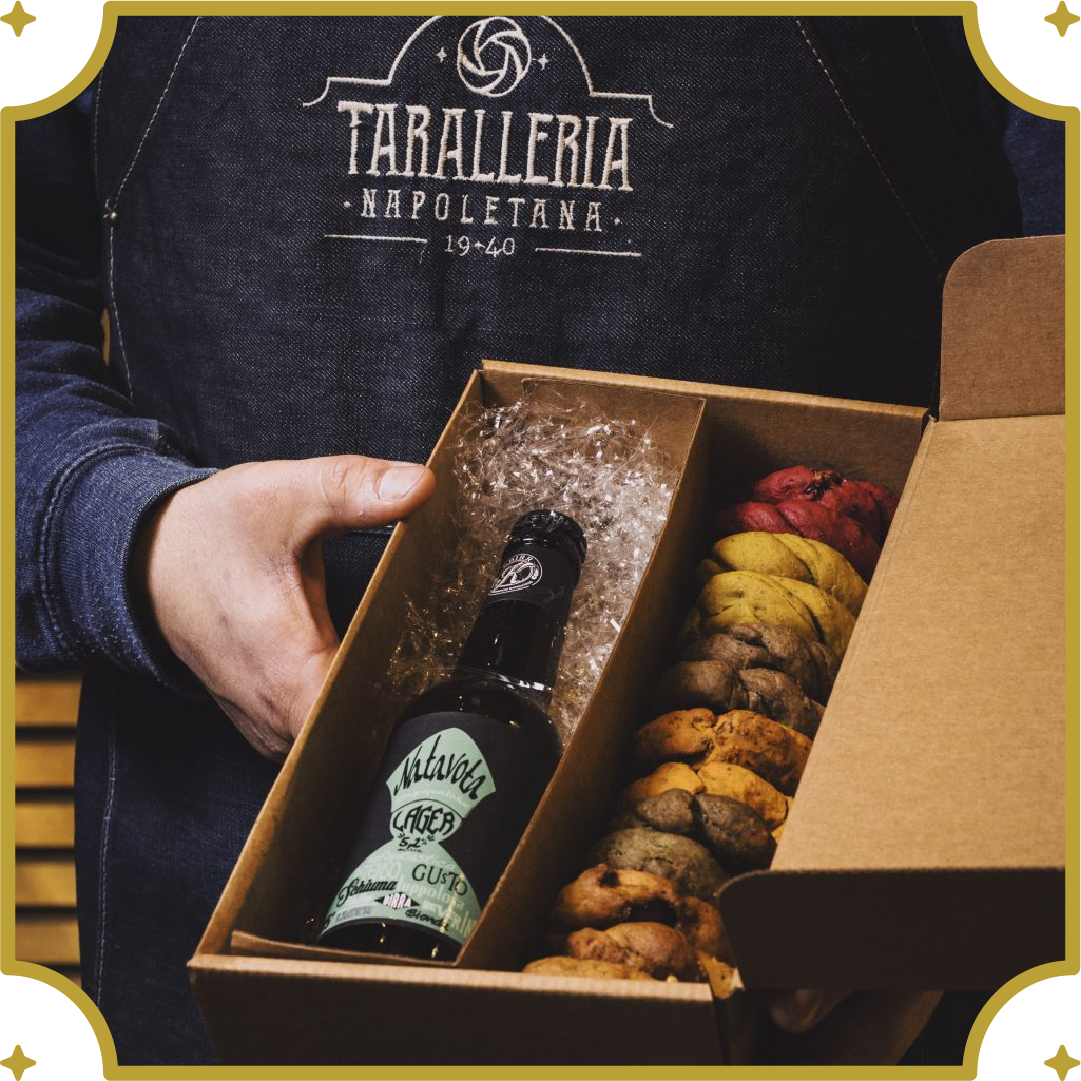 Tarallo mix + kbirr beer
Tarallaro mix of 12 different flavors, all to be discovered and enjoyed.
The box contains:
2 Tarallo Foria 212
1 Tarallo with Friarielli
1 Tarallo with Peppers
1 Tarallo with Basil
1 Cheese Tarallo
1 Yellow Piennolo Tarallo
1 Tarallo with tomato
1 Tarallo alla Genovese
1 Wholemeal Tarallo
2 Special Tarallo
1 Beer signed KBirr, the Neapolitan craft beer.
Puoi effettuare i tuoi acquisti sul nostro sito in modo sicuro utilizzando PayPal o Carta di credito o di debito. Il tuo pagamento è protetto da crittografia SSL.
Tutti i nostri taralli sono intrecciati a mano, uno ad uno, secondo un'antica tecnica di Nonno Leopoldo. Pertanto, potremmo prenderci qualche giorno in più per preparare il tuo ordine!

Ci impegniamo a preparare gli ordini a partire dal primo giorno lavorativo successivo alla conferma d'ordine ed entro, al massimo, 72 ore lavorative, per poi affidarli ai principali corrieri.

Le spese di spedizione e i tempi previsti di consegna saranno calcolati al momento del checkout. I tempi di consegna sono stimati e non garantiti.

Durante i periodi di grande affluenza, come Natale o Pasqua, potrebbe essere necessario più tempo per ricevere il tuo ordine.

Tutte le consegne possono essere monitorate seguendo il link ricevuto nell'email di conferma della spedizione.
Il nostro team di assistenza clienti è sempre a tua disposizione per rispondere a qualsiasi domanda o preoccupazione.